Learn more about us.
At Bridgewater Yoga, we know it's possible to have fun, laugh and feel inspired through the practice of yoga. We promote skillful alignment, finding what feels good, creative sequencing and mindful breathing at our yoga studio. Our teachers are trained, professional yoga teachers and are enthusiastic about sharing yoga's power to connect, transform and elevate your life during each class. We offer authentic teachers and teachings from the heart of experience and inspiration of our own personal practice and evolution of yoga. We LOVE all things yoga!
How We Started
Bridgewater Yoga is owned and operated by husband and wife duo Chris and Lisa Simone. They moved to Chippawa, Ontario in 2014 and are raising their family and building community. Please see Teacher Bio's for more information on them and the other awesome teachers. This community is about us ALL and our love for yoga.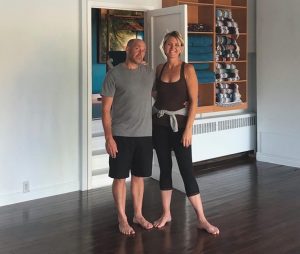 Where We Call Home
Chippawa Village is a charming town, a short 10 minute drive from Niagara Falls, Ontario. Built along the shores of the Niagara and Welland Rivers, therefore the waterfront views very unique and memorable. Our studio is situated right along the banks, and is the only waterfront studio in the area.  Enjoy the beautiful views and feeling of peace as you look out of our sunlit windows. Beautiful in every season, with every colour of the rainbow on display.  
A few fun facts: 
Canadian war heroine

Laura Secord's home

is located

two doors dow

n  from our yoga studio and is rich with history. 

James Cameron

(yes…the Academy Award winning director) called Chippawa Village home for his first 16 years. 
With a cute cafe, restaurants, massage therapy and wellness, ice cream parlour and shops nearby, the village is the perfect place to explore before or after stopping in for one of our yoga classes. We would be happy to suggest some things to check out and recommendations on how to make the most of your time in the place we call home.
Make sure to get in touch and learn more about us and our charming village.